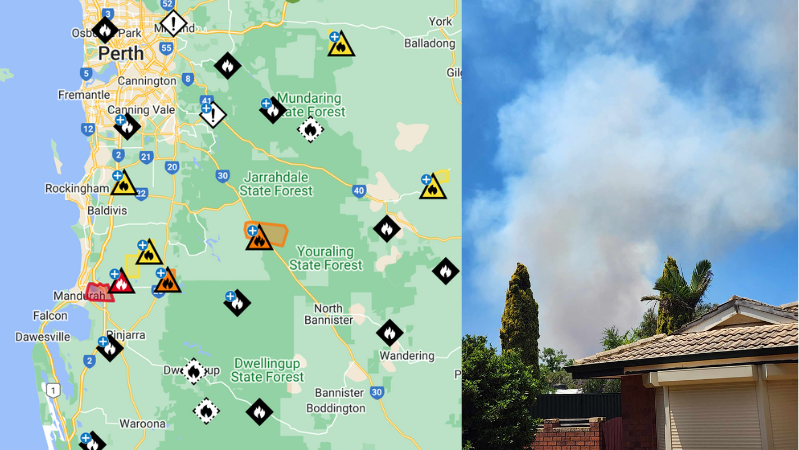 © Left: EmergancyWA.gov.au / Right: Stuart Millington
Wild Thunderstorm Sparks Fires in WA Peel Region
Author: DRN1 News
Published:
DEVELOPING STORY (information will be updated as available).
Reports that houses have been lost are coming in. (Still waiting for confirmation)
Perth, Australia - The WA Peel region experienced a powerful thunderstorm last night, in line with earlier forecasts of heightened thunderstorm activity for this time of year. Lightning strikes sparked fires across the area, beginning around 9pm and persisting well into the early morning hours.
The Bureau of Meteorology (BOM) has characterised the prevailing weather as warm to hot, coupled with dry conditions and brisk northeasterly winds. In specific areas like the Central West and Lower West, gusts of wind may reach formidable strengths during the morning hours. Additionally, there is a heightened risk of isolated high-altitude thunderstorms forming inland on Saturday afternoon, potentially accompanied by dry lightning.


As of the latest update, temperatures in Mandurah have soared to a scorching 34.7 degrees Celsius. Firefighters are working tirelessly at numerous fire fronts across the state, as indicated by the emergency.wa.gov.au website, which reports a total of 79 fires currently under surveillance or actively being combated by firefighting teams from across Western Australia.
At this time, there is no information available regarding any properties that may have sustained damage or been lost.


In the Shire of Murray, the Department of Fire and Emergency Services issued a critical emergency warning just prior to 7am, urgently advising residents in the area that they are in imminent danger and must evacuate immediately if it is safe to do so.
The fire, believed to have been triggered by a lightning strike, was initially reported around 4:15am on Saturday morning. Less than three hours later, it was escalated to an emergency warning level.


DRN1 learned that a staff member from the Peel Chamber of Commerce was in the midst of preparations for their forthcoming awards night at their newly established Stake Hill office when the evacuation order was issued. The Alcoa Peel Business Excellence Awards ceremony, scheduled to take place at the Lane Group Stadium, remains on course as planned.
Jess from the Peel Chamber of Commerce recounted to DRN1, \"One of our staff members informed me about a bush fire. Initially, I didn't see any smoke, so I decided to take a short walk. To my surprise, I encountered thick, black smoke, and the wind was strong and gusty. As soon as I saw this, I left the area immediately.\" Despite the imminent danger, Jess's calm and swift response ensured her safety during this perilous situation.


It's a little reminder that we all need to make sure we have a fire action plan ready this summer.


Be Part of the Story
News happens 24/7, get the latest news right here on DRN1.
Submit your news by:
Email: news.team [at] drn1.com.au